Home of Spaceport America
Truth or Consequences has one of the oddest names in America. In 1950, "Truth or Consequences" radio show host Ralph Edwards challenged his listeners to rename their town for one day in honor of the show's 10th Anniversary. Several communities came forward in response to this challenge; Edwards selected the town of Hot Springs due to its reputation as a destination for the healing arts. When Edwards brought his show to town a Fiesta was held in his honor. Shortly thereafter the town voted to change its name permanently, and its annual Fiesta has been held on the first weekend in May for over 60 years.
Visitors to T or C (as the locals call it) will find ten different hot mineral bath facilities located in the downtown Historic Hot Springs District. Over the past several years T or C has experienced a renaissance. Visitors may now find everything from upscale spa hotels to budget accommodations, home style restaurants to fine dining, shops that offer second hand merchandise to fine art, and two museums: the Geronimo Springs Museum and the Hamilton Military Museum.
The area surrounding T or C offers a variety of outdoor activities. Watersports abound at nearby Elephant Butte Lake State Park, kayak down the Rio Grande, explore the "living ghost towns" of Sierra County, and hike, horseback ride or camp in the nearby Gila National Forest.
Truth or Consequences is located 2 hours south of Albuquerque and one hour north of Las Cruces on I-25. To learn more about T or C, select a topic of interest from the left-hand navigation bar.
Paid in part by Truth or Consequences Lodgers Tax

Outdoor Activities
Birding - Sierra County is one of the finest birding regions in the nation in terms of habitat diversity and potential for rarities. The riparian habitat along the Rio Grande and its associated lakes is a paradise of egrets, herons, birds on the Rio Grandepelicans, grebes, and unusual avian sightings, and all three of Sierra County's state parks (Percha Dam, Caballo and Elephant Butte) were recently designated by the Audubon Society as important birding areas.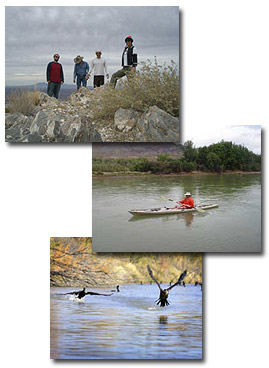 In the Spring, Percha Dam State Park, is considered to be New Mexico's best area for land birds along the Rio Grande, hosts "Migration Sensation" - two days of birding and bird-related programming. Each day begins with guided bird walks to observe sparrows and other birds passing through during the spring birds on the Rio Grande near Truth or Consequences migration.
Camping and Hiking - The Gila Wilderness and the Aldo Leopold Wilderness offer 3 million acres of wild nature in which to camp, hike, and enjoy the silence and clean air of this uncharted territory.
The Aldo Leopold Wilderness, named for the early naturalist and preservationist, runs along the Continental Divide.
The Gila Wilderness was the first national wilderness area officially dedicated—and it remains the largest primitive area still maintained.
Visitors can also camp at any of our area lakes and state parks (scroll down for info on Elephant Butte Lake State Park, Caballo Lake State Park, and Percha Dam State Park).
Boating, Canoeing, Kayaking - The Rio Grande bisects the county, and feeds both Elephant Butte and Caballo Lake, which draw thousands of visitors each year.
Ideal for boating, fishing, and water sports of all kinds, the lakes and waterways of Sierra County offer peak recreation opportunities in a setting of pristine beauty. The Rio Grande Sailing Club holds regattas at the lake year-round. In the summer, the Southwest Drag Boat Association hosts races for every kind of watercraft imagineable.
Several local facilities have watercraft for rent - everything from sea-doos to aqualodges for lake use, and inflatable kayaks and inner tubes for floating down the river.
Scenic Driving - The Geronimo Trail Scenic Byway ties together Sierra County's many charming locales (including many of its former mining towns) and offers sweeping panoramas, breathtaking vistas, and intimate corners of beauty.
Elephant Butte Lake, Truth or Consequences and the Geronimo Springs Museum, Hillsboro, Kingston, Cuchillo, Chloride and Winston (once Fairview) are all on the Byway.
The majority of the route is unspoiled - quiet, pristine, and teeming with wildlife and flowers, depending on the season.
Geronimo Trail Scenic BywayFrom the Jornada del Muerto (Journey of the Dead Man) - the roughest and deadliest part of the historic Camino Real, which served as the main route north between Mexico City and Santa Fe - the Byway rises to more than 8,200 feet in the Black Range Mountains. Emory Pass Vista in the Black Range Scenic Area reveals a magnificent view to the east for more than 40 miles.
Visit the Sierra County Tourism website for more information on activities and other things to do while visiting Sierra County.
Hot Mineral Springs
Truth or Consequences is truly America's most affordable spa town!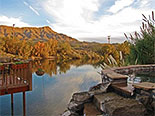 Truth or Consequences' Hot Springs Bathhouse Historic and Commercial District sits above one of the largest aquifers in North America, estimated to produce 2.26 million gallons of hot, perfectly balanced mineral water per day.
Long before white settlement of the area, the Southwest's indigenous people considered the site to be a place of healing. The first bathhouse is believed to have been built circa 1882 by the John Cross Cattle Company for use by its cowboys.
Today, most of the baths in Truth or Consequences are open to walk-ins who can pay to soak by the half hour or hour.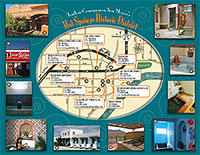 Lodgers seeking in-room private baths will find several to choose from in the downtown area.
Charmingly restored, most of Truth or Consequences' hot spring spa establishments date from the 1920s and '30s when the town was still called Hot Springs (hot mineral water treatment was an accepted medical practice then, and the town's motto was "The City of Health"). Some spas also offer a full range of massage in addition to other pampering and healing arts.
Living Ghost Towns
The Bridal Chamber, Solitaire, Silver Monument, Ready Pay, Opportunity, and other mines produced millions in silver and gold, creating a string of Sierra County boomtowns from the 1870s to the 1890s.
The Geronimo Trail Scenic Byway meanders through these living ghost towns that are home to old-timers and newcomers alike who are restoring and revitalizing these historic locales with shops, museums, eateries, and other enterprises.

Kingston - Kingston was founded when a rich lode of silver ore was discovered at the Solitaire in 1882. It grew rapidly and the old Percha Bank building in the former mining town of Kingston, New Mexicowas the largest town in the territory—and one of the wildest in the Wild West. The town soon offered all of the trappings of civilization and culture. Numerous hotels played host to the likes of Mark Twain, Butch Cassidy and the Sundance Kid, and Black Jack Ketchum. Stage lines served all major routes, and the town supported twenty-three saloons,some of which advertised fresh oysters 24 hours a day! The town also had 14 grocery and general stores; a brewery; three newspapers; and an Opera House where the Lillian Russell Troupe once performed. Albert Bacon Fall and Ed Doheny of the Teapot Dome Scandal got their start in Kingston.
Hillsboro - Hillsboro was born in 1877 when gold was found at the nearby Opportunity and Ready Pay mines. Despite fierce Indian attacks, the town grew, becoming the county seat in 1884. Area mines produced more than $6 million in gold and silver, and by 1907 the town had a population of 1,200.
Today, this charming, peaceful village of a hundred souls, which boasts flower-filled yards and old cottonwoods lining the main street, offers many enticements, including gift shops; restaurants; artist studios and galleries; the remains of the old county courthouse; the Black Range Museum; Union Church; and Our Lady of Guadalupe Catholic Church.
Cuchillo - Established by ranchers and farmers in the 1850s, was named for a nearby creek and a local Apache chief, Cuchillo Negro (Black Knife). Midway between the mines at Chloride and Winston and the railroad at Engle, it flourished as a stage stop and trade center from the 1880s to the 1930s. Charming original buildings still stand, including the Cuchillo Bar and Store, and San Jose Catholic Church, built in 1907.
Monticello - Monticello was founded by ranchers and farmers in 1856 as Cañada Alamosa (Cottonwood Canyon). In 1881 its first postmaster, Aristide Bourguet, renamed the town that was located not far from the headquarters for the Warm Springs Apache Agency.
Built in a square around a plaza in order to protect residents from attack, the town features old adobe homes that have been restored by new residents. Mass is still said at historic San Ignacio Catholic Church, built in 1867, and the local cemetery has graves dating from the 1800s.
Winston - Winston (first called Fairview) was settled in 1881 by miners who found nearby Chloride "too rowdy." It had a school, bars, a newspaper, horse races, and featured plays and songfests at Cloudman Hall (named for the local butcher). Miner, businessman, and future state legislator Frank H. Winston, who came to town in 1882, owned several businesses and generously gave credit to customers in hard times. When he died in 1929, the town was renamed in his honor.
While Winston flourished until the silver panic of 1893, today only a few families remain. Winston's home and carriage house still stand, along with the 1890 schoolhouse, the old post office, and other historic buildings. The town, home to the Winston Store, the Diamond Bar, and the Black Range Camp, hosts the WCCD (for Winston, Chloride, Dusty and Chiz) Festival each June.
Chloride - Chloride was founded in 1880. Englishman Harry Pye had discovered silver ore there in the late 1870s, and soon after Pye was killed by Apaches, word of the silver find got out. Despite the threat of Indian attacks Chloride grew to over 3,000 people. In its heyday it had nine saloons, a general store, a dry goods store, a millinery shop, a restaurant, a butcher shop, a candy store, a pharmacy, a Chinese laundry, a photography studio, a school, and two hotels. The Black Range newspaper was printed in Chloride from 1882 to 1896. Of the nearly 500 surveyed mines and prospect holes in the Apache Mining District, a dozen or so made big mines, including the Silver Monument, the U.S. Treasury, and the St. Cloud, which is still in operation, though not mining silver. The demise of Chloride began with the Silver Panic of 1893 and was hastened by the presidential election of 1896, which resulted in a drastic decline in silver prices.
Many of Chloride's original structures still stand. The old Pioneer Store is now a museum; next door the former Monte Cristo Saloon and Dance Hall houses a gift shop and gallery featuring work by local artists. Both are open seven days a week from 10am-4pm. Harry Pye's cabin is available as a vacation rental. Other landmarks in this tiny town (population 11) include the 200-year-old Hanging Tree and Doodle Dum, the workshop of longtime resident Cassie Hobbs (1904–1989).
Spaceport America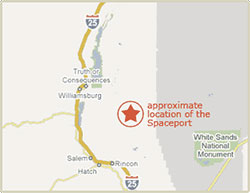 Spaceport America is the world's first purpose-built commercial spaceport. Funded by
New Mexico taxpayers, Spaceport America's tenants include Virgin Galactic,
SpinLaunch, UP Aerospace and HAPS Mobile/AeroVironment. Virgin Galactic
completed its test flights in May 2023 and began commercial flights into sub-orbit in the
summer of 2023.
Spaceport America is an active test facility and is not open to the public. Private tours of
the facility are conducted weekly and may be arranged in advance with Final Frontier
Tours by calling (575) 267-8888.
Sightseeing
Sightseeing opportunities in Truth or Consequences are plentiful and diverse. Visitor attractions include museums and art galleries, State Parks, ghost towns, sporting and fishing competitions and annual events.
If attractions aren't what you're looking for you can spend a day taking a scenic drive on Geronimo Trail Scenic Bya exploring the historic mining communities of the Old West, diverse wildlife and scenery. Need help planning your itinerary? Visit the helpful volunteers at the Geronimo Trail Visitor Center at 523 Broadway in Truth or Consequences and they'll point you in the right direction.
Want someone to show you around? Take a look at the Sightseeing Tour Companies operating within Truth or Consequences and the surrounding area.
Request Free Visitor Guide