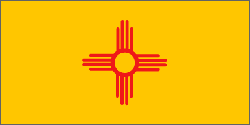 New Mexico
"Land of Enchantment (1999)"
Motto

Crescit eundo (It grows as it goes)

Capitol

Name Origin

From Mexico, "place of Mexitli," an Aztec god or leader

Statehood Date

Jan. 6, 1912 (47th)
Cities in New Mexico
NOTE: Not all cities are displayed. Please narrow your selection by using the search above.
Official Symbols
A state's official symbols represent the composition and culture of the land and people who live and have lived here. Below are the symbols of New Mexico along with the year they became official.
| | |
| --- | --- |
| Flower | Yucca (1927) |
| Tree | Pinon (1949) |
| Animal | Black Bear (1963) |
| Bird | Roadrunner (1949) |
| Fish | Cutthroat Trout (1955) |
| Vegetables | Chili And Frijol (1965) |
| Gem | Turquoise (1967) |
| Song | "O Fair New Mexico" (1917) |
| Spanish-Language Song | "Asi Es Nuevo Méjico" (1971) |
| Poem | "A Nuevo México" (1991) |
| Grass | Blue Gramma (1973) |
| Fossil | Coelophysis (1981) |
| Cookie | Bizcochito (1989) |
| Insect | Tarantula Hawk Wasp (1989) |
| Ballad | "Land Of Enchantment" (1989) |
| Bilingual Song | "New Mexico—Mi Lindo Nuevo Mexico", (1995) |
| Question | "Red Or Green?" (1999) |
Demographics
Population Density

15.0 people per square mile
Geography and Weather
Land Area

121,356 sq mi. (314,312 sq km)

Lowest Elevation

0 ft (0 m)

Average Elevation

5700 ft (1737.36 m)

Highest Temperature Recorded

122°F (50°C) on June 27, 1994

Lowest Temperature Recorded

–50°F (–46°C) on February 1, 1951